Spicy Whisky
Wolf Release IV + Lark Barrel Aged Imperial JSP IV Beer
A collaboration of distinction.
Wolf Release IV
A collaboration of distinction. Smoky, Daring, Bright.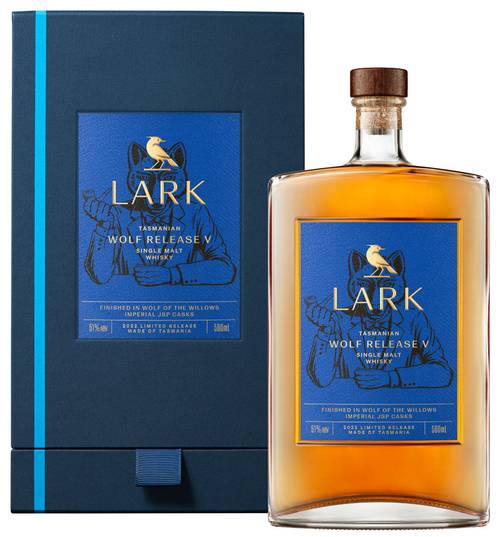 Wolf Release V
Our latest Single Malt. Molten mocha pours through a roasted malt-soaked core.
There were no results matching
There is something very majestic about savouring a whisky, as its flavour is the most important part of the drink. At Lark Distilling Co, we endeavour to produce an excellent variety of aromatic and spiced whisky.
The spiciness of any whisky will change depending on what types of barrels it was matured in and how the barley malts have been prepared. Almost all whisky will have a spicy note, but some are more apparent than others. For example, you may notice a higher concentration of spices in peated whisky than in other types. If you love strong spice flavours, you can't go wrong with Lark Distillery's peated whisky.
If you happen to be in Tasmania, you are welcome to drop past our cellar door and sample all of the whiskies we have available for tasting. Our professionally trained staff can pilot a whisky flight with you and introduce you to the wonders of spicy whisky.
What is spicy whisky?
A spicy whisky is a combination of whisky and some type of spice. The most common spices you'll find in top-shelf whisky include cinnamon, nutmeg, star anise, clove and allspice. These spices are often referred to as baking spices, and they are what you can look for in a premium aged whisky.
Almost all single malt whiskies come with tasting notes, which contain information about what flavours you can expect. It can take many years of practice to develop a palate to determine and decipher the flavours in a whisky. However, this is why tasting notes are so important when looking for a quality whisky. Think of it as having someone that can lead you through the barrels, guiding you to the authentic flavours of the whisky.
Uncovering the spiciness and flavour of whisky can be a journey, and everyone may experience something slightly different. When you're drinking whisky, the flavours are a combination of three main elements: appearance, aroma, and palate. When these three are working together, what you experience can remind you of certain things and place a picture in your mind. While savouring a spicy whisky, you may find yourself transported to a late Christmas evening sharing plum pudding with your family.
If you want to try spicy whisky, there are several types to choose from. Take note of whether they have an aromatic character, are bold and strong-willed, or if they hide behind other woody flavours. Finding the spices in your whisky is one thing, but uncovering how they manifest can mean the difference between an explosive impact or a delightful surprise.
What food goes well with spicy whisky?
Whisky is a versatile drink, and it will match with an excellent variety of food. When you're drinking whisky, it is always a good idea to have something to eat at the same time. Food can be an excellent method for enhancing the flavours you'll find in whisky. Provided the two complement each other, you'll note that both will be elevated to new levels of flavour. There is a perfect matching food to each whisky, and discovering what flavours go best together is one of the pleasures of drinking a spicy whisky.
You can choose the right food to have with your whisky depending on what you are doing. For a dinner menu, you can select the most roasted red meats or grilled pork ribs. If you prefer a lighter meal, then a quality Tasmanian salmon will hit the spot. For desserts, you can't pass up anything with rich dark chocolate. In the evenings, you may prefer to settle with a well-designed cheeseboard containing a good mix of soft and hard cheeses; any cheese that works with an excellent red wine will be perfect.
Where can you buy spicy whisky?
While you may find some brilliant examples of whisky in a retail setting, by shopping online, you have access to a lot more detail about that particular whisky. At Lark Distilling Co., you'll find our entire range of Australian whisky in our online shop.
If you're not sure which whisky is right for you, then we highly recommend buying a whisky tasting set. These sets will come with one or more bottles of our single malt whisky, with some coming packed with a tasting glass. You will find tasting notes for most whiskies, and some will include links to guided tasting tours. If you're buying whisky for others, then these whisky sets make for the perfect gifts.
You can add any of our whiskies and Australian spirits (e.g., classic and flavoured gins, lemon liqueurs) to your whisky delivery and have it sent to your home or workplace. All orders are packed and ready to be shipped in under a day (M-F), and these are sent out through Australia Post. Your order will arrive in approximately 3-5 days or 4-10 days in regional areas. If you need assistance in choosing the best spicy whisky, you can contact our team, and we'll happily make a recommendation.