Spirits Business Awards 2022
Bill Lark – 'Lifetime Achievement'
Tasmania's LARK Distilling, Australia's leading luxury whisky distillery, has been honoured with top awards at the prestigious Spirits Business Awards in London – including 'Lifetime Achievement' for founder Bill Lark and 'Best New Marketing Campaign' for DARK LARK.

Overnight at the prestigious Spirits Business Awards in the United Kingdom, which recognises global excellence in the spirits industry, the number one Prestige+ Australian Whisky*, LARK, was honoured with several top awards – recognising LARK's outstanding contribution not only to the Australian whisky industry, but to the industry globally. The awards were presented on Thursday 3 November in London at an award ceremony with LARK being shortlisted for a total of six awards across key categories, winning two of these and achieving high commendations for three others – the most of any single brand at the event.
the Godfather of Australian whisky
BILL LARK Awarded 'LIFETIME ACHIEVEMENT'
Recognising his life-long dedication to the advancement of Tasmanian whisky, LARK founder Bill Lark – the Godfather of Australian whisky – was honoured with the 'Lifetime Achievement' Award in the 2022 Spirits Business Awards. Bill Lark's career as Australia's most recognised whisky distiller began with a single question: "I wonder why there isn't anyone making malt whisky in Tasmania?". This question saw the revival of an industry in Tasmania, the development a globally-recognised and celebrated whisky distillery with LARK, and Bill Lark becoming one of the most prominent figures in whisky – renowned the world over. Together with his with wife Lyn, they built an enduring passion and dedication to craft and generosity of spirit in supporting others hone their skills.

Bill's love for whisky and innovation has helped build the LARK brand into what it is today. This year, the Tasmanian distillery celebrated 30 years since Bill and Lyn's vision resulted in overturning the legislation for distilling in Tasmania, and led to LARK being granted the first Tasmanian distillers license in 154 years.

In 2015, he was named the 28th inductee of the World Whisky Awards Hall of Fame in the United Kingdom. Bill was the first Australian to be bestowed such an honour. A founding member of the Australian Distillers Association and the Tasmanian Whisky Producers Association, Bill continues to consult and mentor distilleries across Australia, New Zealand and the United Kingdom and is now Global Brand Ambassador for LARK Distilling Company.

On being honoured with such a prestigious international award, LARK founder Bill Lark says:
"I am immensely honoured to receive this award – and do so in full knowledge that this award extends far beyond just me. What began as a simple question many years ago, enquiring why there were no locally crafted malt whiskies in Tasmania, led to LARK becoming one of Australia's most respected distilleries. Some of my proudest achievements in my career have been re-establishing an industry which we can be proud of in Tasmania – one which celebrates the bounty of our natural surrounds and champions the Australian spirit for innovation and having a fair go. The incredible team at LARK carry on this legacy, expanding not only our business operations, but carrying forward that same spirit of innovation to create world-class whiskies and distilled spirits, all while maintaining a commitment to operate a carbon neutral business and a passion for collaboration. I hope you will join me in raising a glass to our wonderful spirits industry around the world, and in particular, to the LARK team in Tasmania to whom I dedicate this award."

Alongside this award, LARK took out the award for 'Best New Marketing Campaign' for DARK LARK. The sell-out first winter release from LARK, which was awarded Gold at the World Whisky Masters, launched with a campaign curated to disrupt the category, and place whisky into new occasions and with new consumers. An elegant, indulgent, winter-led aesthetic was deployed across the marketing mix, telling the story of coming together in the midst of winter. DARK LARK will return as a Limited Release in June 2023.

In addition to the prestigious honours awarded, LARK was Highly Commended in the 'Blender of the Year' award, recognising Master Blender Chris Thomson's impact on LARK Distilling Co over the last 15 years, pushing the boundaries in whisky innovation and experience, creating globally acclaimed products, and building a training ground for Australian distillers. LARK also achieved High Commendations for the 'Best Event' award for the LARK 30th Anniversary Gala Dinner at Pontville and for the 'Outstanding Contribution to Spirits Tourism' award for Guided Whisky Tasting at The Still & Cocktail Bar by LARK in Hobart, Tasmania.

Thank you to all the distillers, industry friends - in Tasmania and across the globe, media, LARK employees and loyal consumers who have been part of our 30 year journey - it's just the beginning.

Read more about Bill Lark's inspirational story and the origins of LARK Distilling Company online here.
Bill Larks Legacy
#HHF584
Bill Larks Legacy
#HHF584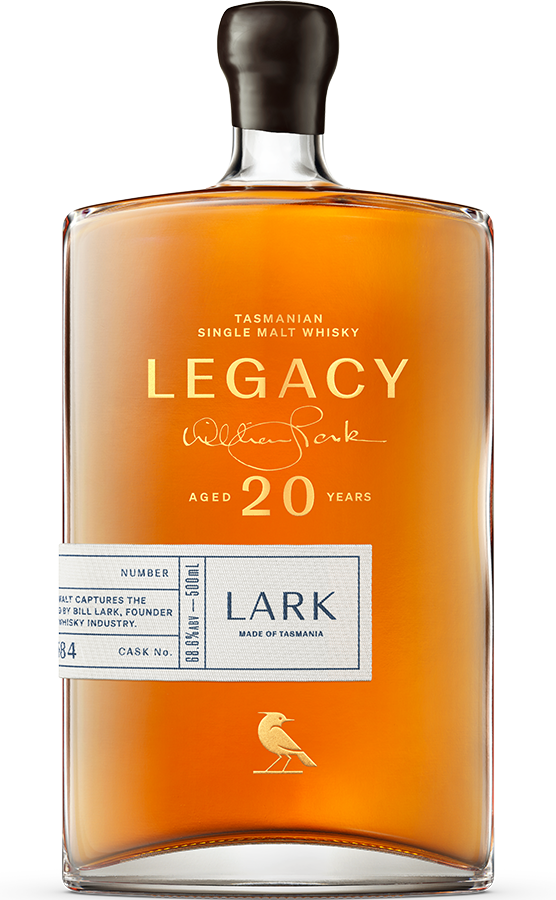 Legacy Cask #HHF584 20 Year Aged Single Malt
This single malt spent the first 15 years of its life maturing in French oak, it was then moved to a First Fill Bourbon cask for a further 5 years to give the whisky a sweetness with an overall balance and complexity.
DISCOVER NOW
DISCOVER NOW
AGED FOR 20 YEARS IN CASK HHF584

A brilliant single cask, our Legacy HHF584 is a story of simplicity and complexity intertwining to create something very special. This single malt spent the first 15 years of its life maturing in French oak, it was then moved to a First Fill Bourbon cask for a further 5 years to give the whisky a sweetness with an overall balance and complexity. There is something to be said about leaving a whisky to do all the work itself, with just a small tweak here and there to make sure it's on the right path. HHF584 has been left to mature and find complexity naturally, music to the ears of Whisky enthusiast.
A Tasmanian single malt that captures the essence of an enduring legacy lasting 30 years. Crafted by Bill Lark during his tenure at a renowned Tasmanian distillery, this spirit sat with quiet conviction for two decades developing in both complexity and age under Bill's expectant and nurturing eye.
The result is a cask containing one of the oldest and most exclusive single malts to be released under the HOUSE of LARK name. An exceptional offering, testament to Bill's pioneering vision and our continued pursuit of the extraordinary.
Celebrating 30 years of Tasmanian Whisky.
Individually signed and numbered by Bill Lark. Celebrating 30 years of Tasmanian Whisky.
Share
Share whisky with somone you know.